Kuldeep Yadav strode into the pantheon of cricketing heroes with a definitive hat-trick as India prevailed over Australia by 50 runs at the Eden Gardens here on Thursday evening.
Kuldeep, the latest in a long line of Indian spinners, produced the match-winning spell in the 33rd over removing Mathew Wade, Ashton Agar and Pat Cummins off successive deliveries. As Kuldeep emerged the toast of the town, India coasted to its eighth successive ODI win.
Opting to bat, India scored 252 in 50 overs. With just 18 minutes lost due to rain interruption midway in the action, the match went full length before India got Australia all out at 202 with 6.5 overs to spare.
This was the first time that an Indian spinner secured a hat-trick in One-Day Internationals; previously two pacers, Chetan Sharma and Kapil Dev, had realised this feat. Kapil had performed his hat-trick at this very venue.
Kuldeep, who has already made an indelible mark on the Australians with his left-arm chinaman bowling, turned their apprehension into reality when he deceived three of their batsmen.
Leg-spinner Yuzvendra Chahal started the process of demolition picking up the wickets of Travis Head and the marauding Glenn Maxwell before Kuldeep pulled out his bag of tricks.
This made it a memorable evening for the two young spinners, who were playing their fourth match together in national colours. Kuldeep, who plays with local IPL side Kolkata Knight Riders, utilised his understanding of the Eden wicket to get his scalps in different fashion. Wade was bowled, Agar trapped leg-before and Cummins caught behind to make it a heady blend for Kuldeep.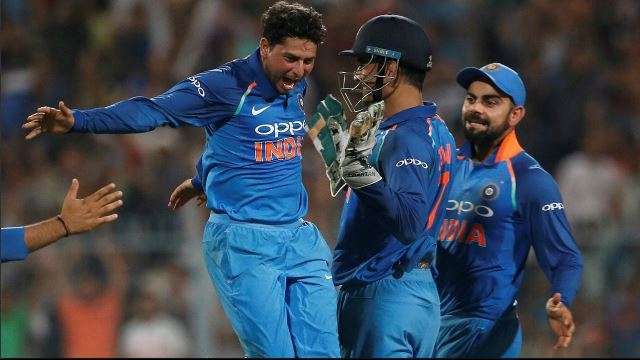 For Australia, captain Steve Smith provided some resistance with a patient 59 (76b, 8×4) as rest of his colleagues in the batting department faltered with their job. All-rounder Marcus Stoinis tried a late resurrection with an unbeaten 62 (65b, 6×4, 3×6) but his effort remained an isolated cause in a general scene of catastrophe in the visitor's camp.
Apart from the spin duo, Bhuvaneswar Kumar also deserved the credit in ensuring the Indian win producing another essay of good swing blowing that fetched him three wickets including the two Australian openers Hilton Cartwright and David Warner.
Earlier, Virat Kohli and Ajinkya Rahane came together for a 102-run partnership (in 111 balls) for the second wicket to help India cross the 250 mark. But the host veered off course after the departure of the Indian captain in the 38th over.
Kohli played the captain's knock but could not complete the wishes of a swelling turnout in the stands, which egged him on with "Kohli Kohli" chants anticipating his 31st century. Kohli, the No. 1 batsman in the world in the limited-overs format, seemed to step into an uncharacteristic phase of nervy 90s and finally perished in the grasp of diffidence dragging a seaming delivery from Nathan Coultre-Nile on to the stumps.
This was only the fifth occasion in a total of 187 innings where Kohli got out in the 90s and the Indian captain had to be content with adding the 45th half-century to his ODI career.
The departure of Kohli at 92 (107b, 8×4) had a dampening effect on the rest of the Indian innings which folded up adding just 55 runs in next 12 overs. Rahane, who made a creditable 55 (64b, 7×4), was unfortunately run out.
Mahendra Singh Dhoni, who relishes in flourishing under pressure, could not conjure himself to the task as Australians came hard on him and departed after added just five runs to the score. Hardik Pandya could score only 20 runs with the bat but his performance as a bowler where he picked up two wickets, including that of Smith, seemed to redeem him in the end.