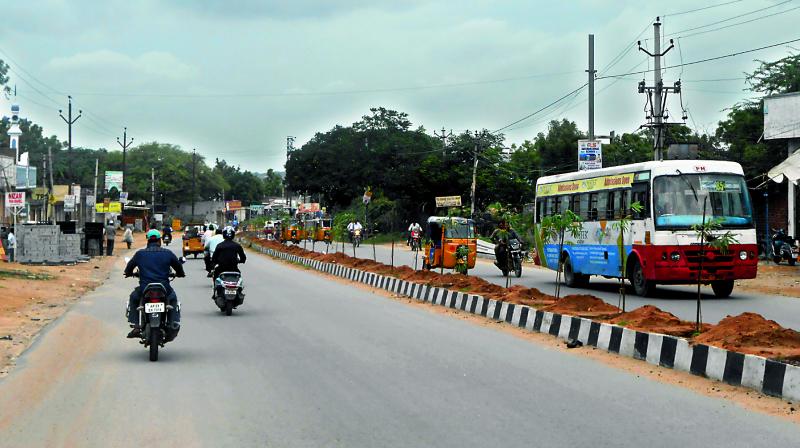 Visakhapatnam : At least 40 two-wheeler riders died in a month on Andhra Pradesh roads in 2016 for not wearing helmets and another 20 for not fastening their seat belts. The Road Transport Authority (RTA) officials say that at least 30 to 40 per cent two-wheeler riders in Andhra Pradesh don't wear a helmet unless they are fined. The latest report compiled by the ministry's Transport Research Wing says that out of the total of 52,500 two-wheeler riders killed in road accidents during 2016 in India, 10,135 two-wheeler riders (19.3 per cent) were not wearing helmets. Non-wearing of seat belts were also reported in the 5,638 motor car accident deaths during 2016.
In Andhra Pradesh, a total of 2,662 two-wheeler riders died in road accidents in 2016. Of the total, 477 motorists, including 18 women two-wheeler riders were killed for not wearing head-guards and similarly, 237 motorists, including 15 female motorists died for non-wearing of seat belts in road accidents in 2016. For the first time, the police and transport departments in the state have captured data on deaths caused due to non-wearing of helmets and seat-belts. As per reports, 2,532 two-wheelers and 1,199 four-wheelers were killed in 2015.
 Use of helmets and seat belts has already been made compulsory for motorists in Andhra Pradesh from November 2015 by the Road Transport Authority (RTA) and Police. But, at least 40 per cent of Andhraites don't wear the helmet while riding on two-wheelers or as pillion riders and similarly at least 50 per cent of four-wheel drivers have been ignoring the use of seat belts. Now they want stricter road rules and stiffer penalties to enforce the ruling, say officials of RTA and Traffic police wing in Vizag and Vijayawada cities.
Deputy Transport Commissioner, S. Venkat-eswara Rao and Vizag city police chief T. Yoganand said that two-wheelers remained the most unsafe mode of transport, not just for the riders but also posed several dangers to others on the road. Experts in the field say that the number of deaths due to not wearing of helmets and seatbelts could be more as the available data might not have captured the details in total.
"We have fined a total of 1,472 two-wheeler users in Vizag city on Thursday (Sept. 7) for not wearing the head-guards. The number indicates that most of the two-wheeler riders hesitate to use helmets," says a transport officer.